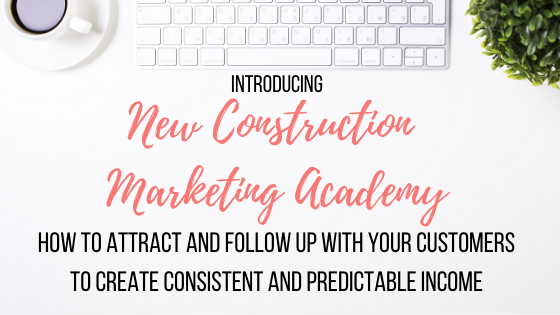 52% of NEW HOME SALESPEOPLE NEVER FOLLOW UP! 80% OF SALES ARE MADE BETWEEN THE 5th-12th FOLLOW UP
How much money do you leave on the table?
Get the confidence and know how to automate most of your follow up activities so that no matter how busy you become; no customer is ever neglected by you resulting in consistent sales and predictable income
Save time by eliminating paper registration cards and systematizing follow up process from initial contact to settlement
Build stronger relationships, convert more sales and reduce the average buying cycle of your prospects by mastering video marketing
If you want to convert up to 80% more sales, save hours of your time, or if you want to generate more traffic to your model home, then you're in the right place!
Here's why...
To be successful in New Home Sales, you CANNOT rely on your builder for resources, software or prospects. It's up to you and you ONLY.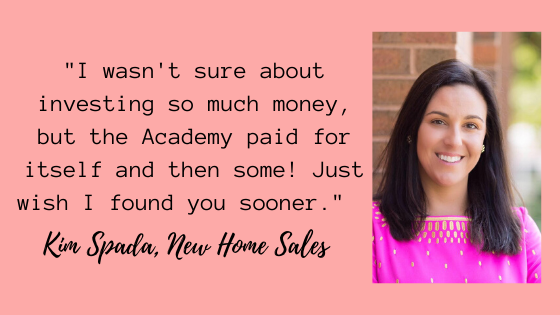 The proven follow up system that GUARANTEES you increase the number of sales by consistently reaching prospects with the right message when they're most engaged

Here's how and why I can make you this promise...
Hi! My name is Anya Chrisanthon and I am the creator of the New Construction Marketing Academy and a Host of a Top Rated New Construction Marketing Podcast.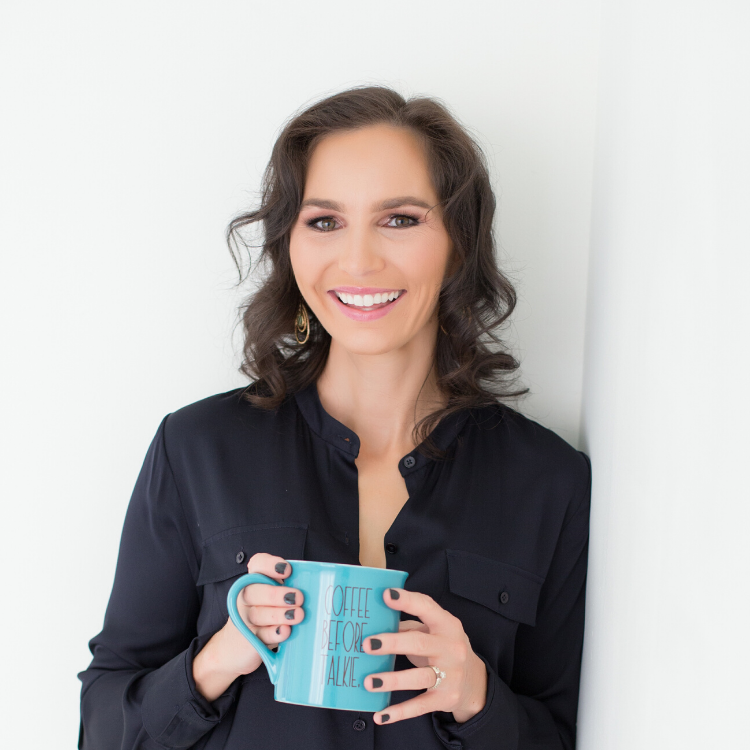 I've been a top performing new home salesperson and a recipient of a Rookie of the Year, MVP of Sales, NAHB's the One to Watch and many other awards for outstanding sales achievement.
Even though I knew how to sell homes, I lacked consistency and felt like I was on a constant paycheck rollercoaster! When I did certain follow up and prospecting activities, I was making money-but the moment I got busy and took my foot off the gas, sales fell flat.
It really hit me when it was time to move into our new home and suddenly my sales plummeted just in time for a mortgage application! I was so stressed and worried that I could not take care of my family-I knew there had to be a better way.
After investing a ton of time, money and resources and trying endless software programs, I figured out a system that worked! I was able to automate most of my follow up activities and finally enjoyed a steady paycheck.
Now I teach new home sales professionals just like you, how to gain financial freedom and get off the hamster wheel of chasing sales by systematizing most of your repetitive daily activities so you can concentrate of what actually moves the dial. I believe that you don't rise to the level of your goals-you fall to the level of your systems.
This course is going to give you everything you need to automate most of your follow up and I'll teach you how to generate consistent referrals in the process!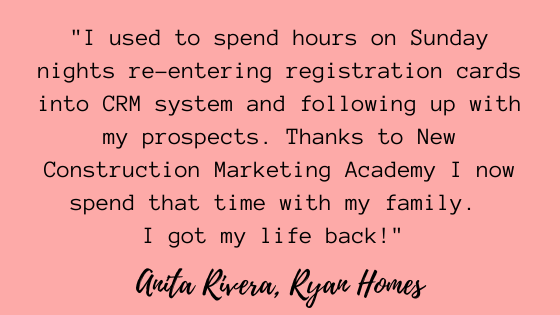 According to the Nations leading Secret Shopper Agency 52% OF NEW HOME SALESPEOPLE NEVER FOLLOW UP! And, 80% of all sales are made between the 5th and 12th follow up. So let me ask you the dreaded question: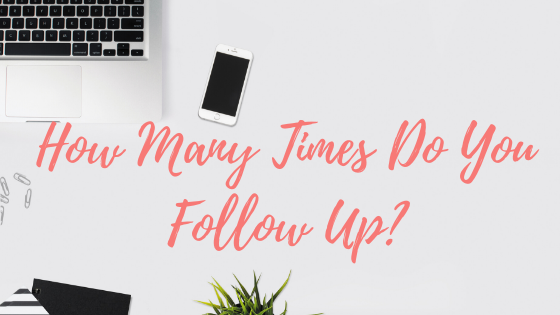 I know, there is just not enough time. In fact, if you see an average of 30 prospects every week, you'd need to spend 39 weeks out of the year or 75% of your year on follow up in order to touch every prospect 12 times! Who has the time for that?
And what is there to say beyond "I'm just checking in?" Don't worry-I've got you covered!
In Fact, Here's Just The Tip of The Iceberg of What You Get...
The proven follow up system that GUARANTEES you increase the number of sales by consistently reaching prospects with a right message when they're most engaged.
You'll understand exactly why the BEST advertising for your community is absolutely FREE - and exactly how to do it
You'll save hours of your time by skipping the paper registration process and re-writing the same email messages over and over again
You'll know exactly what to say and when to say it to reach your ideal buyer when they're most engaged and how to turn them into a raving fan and a source of lifelong referrals
Make more money and save hours while doing it!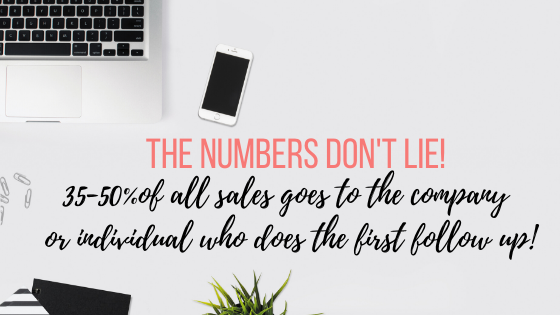 Your customers will think you're a true professional-on top of your game, keeping on top of them with your follow up, WITHOUT you actually lifting a finger!
Imagine what it would feel like to consistently make more money and get a predictable paycheck?
What would it feel like to stand on the big stage and be recognized by your peers and managers?
So Here's The Bottom Line-With New Construction Marketing Academy
You get unlimited access to 8 Modules which will be delivered over 8 weeks that will walk you step-by-step through the entire process from start to finish. You get all the templates to help you get up and running with automation fast. You get the exact blueprint you need to succeed!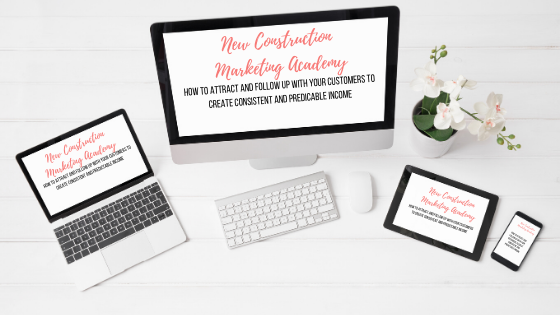 You get all of this for only $497..
You'll have unlimited access to the course and can come back to it again and again on your own time in the convenience of your own home...or the model home.
Here is what we'll cover during the 8 week period: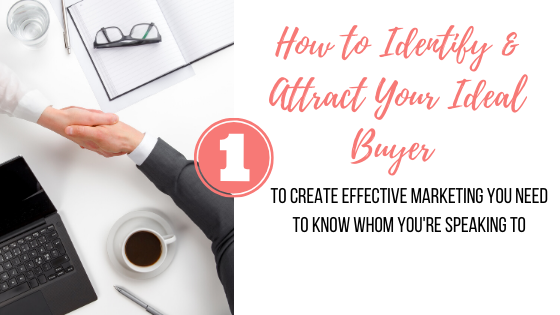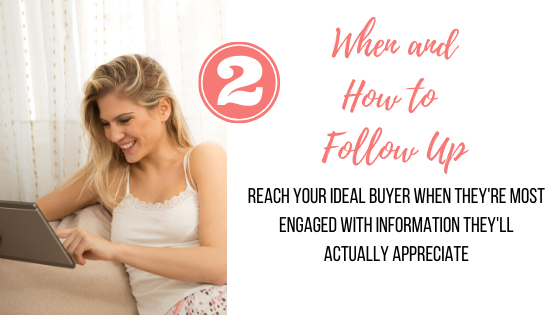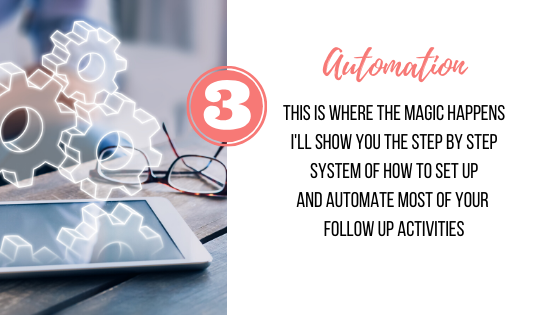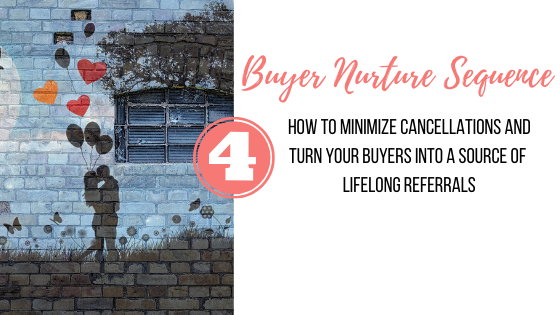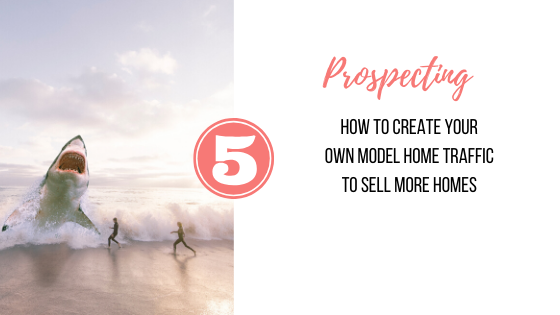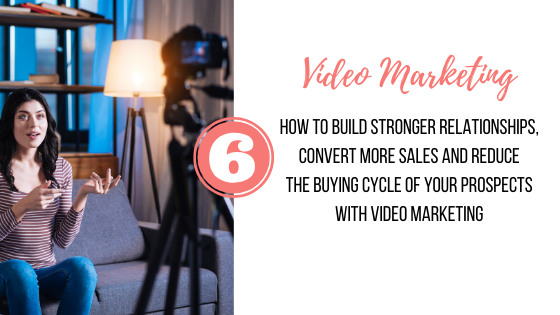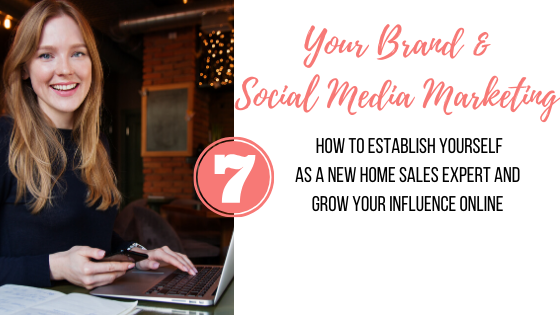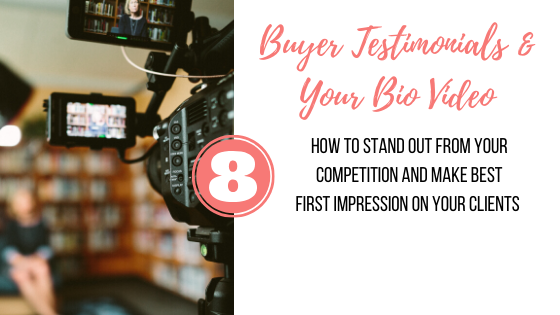 But Let Me Sweeten The Pot For You Even More With These Bonuses For Acting Now...
Bonus #1: 12 Pre-Written Follow Up Email Templates
Not a writer? Not to worry! Not only you'll learn how to write effective emails that speak to your ideal buyer and make them want to engage in a conversation with you, but I'll make it even easier with these included email templates. All you need to do is customize it to your community and you're ready to go!
Real Value: $1,200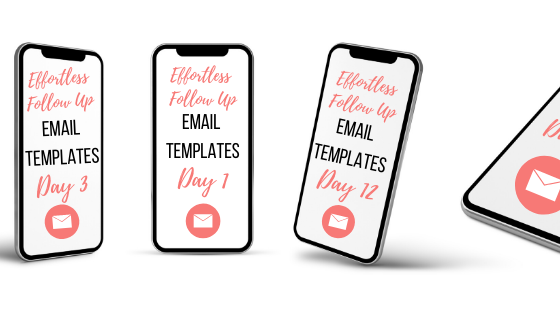 Bonus#2: How to Shoot and Edit Video Using Just your iPhone!
You don't need complicated and expensive equipment or software to start producing quality videos to help you establish faster and deeper connections with your prospects. All you need is your smart phone to get started! I'll show you how to shoot and edit professional quality videos right from your phone.
Real Value: $250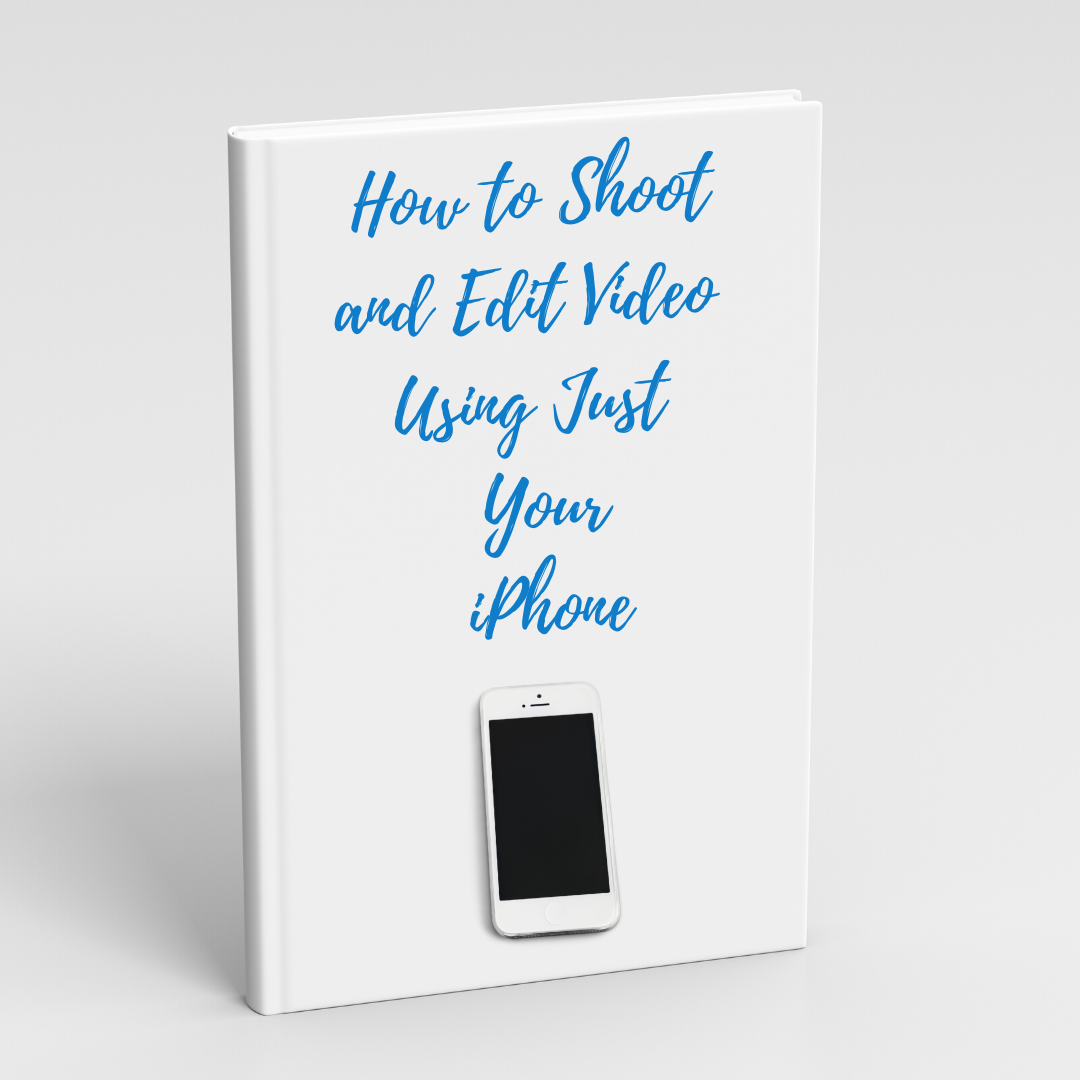 Bonus #3: An Entire Year of Monthly Video Ideas with Scripts to Nurture Your Past Buyers.

You should get at least 3 referrals for every 100 people in your database. So don't just love them and leave them! Your buyers already experienced how awesome you are and they can't wait to send you referrals from friends and family-but you just need to remind them and ask. These scrips will give you an excuse to reach out with valuable information every month that your buyers will appreciate and it's an opportunity to stay a top of mind and ask for referrals.
Real Value: $1,500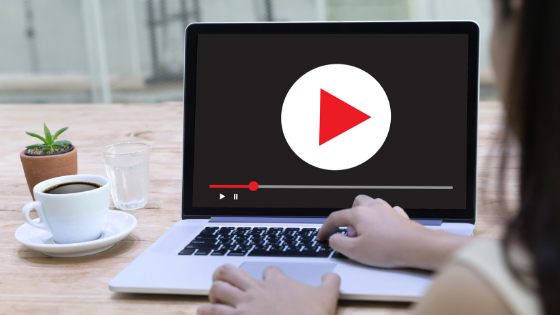 Total value of $2,950... but they're yours when you act now!
And you have nothing to lose because...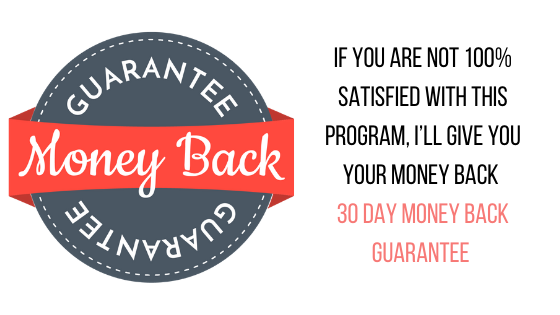 I want you to be happy and feel confident in your decision to move forward.
Take a full 30 Days to put me to the test with my iron-clad, money-back guarantee.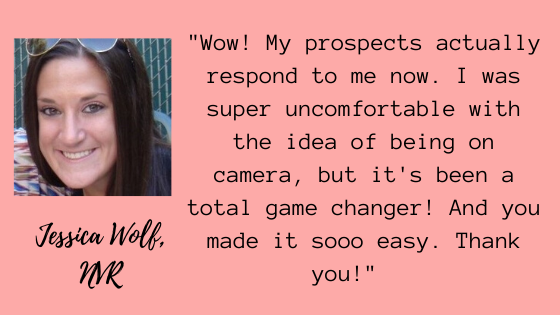 Frequently Asked Questions
When does the course start and finish?
The course starts now and never ends! It is a completely self-paced online course - you decide when you start and when you finish.
How long do I have access to the course?
How does lifetime access sound? After enrolling, you have unlimited access to this course for as long as you like - across any and all devices you own.
What if I am unhappy with the course?
I'm 100% committed to New Construction Marketing Academy being the ONLY program you need to successfully kickstart your follow up automation and prospecting - and watch them skyrocket in the coming weeks and months as you advance through the 8 Modules. If you are committed to figuring out who your ideal buyer profile is and how you plan to serve them, and are committed to giving this your best shot - then I promise you, you WILL succeed in New Construction Marketing Academy. And if you can show me that you've gone through the steps, did the work, and still don't feel that you have a solid follow up automation in place, then I insist that you reach out within 30 days to get 100% of your investment back.
Do I need to buy any additional software?
It depends. If you currently use a CRM system that already offers automation-then you can continue to use it. You'll still follow the steps in the program and will plug them into your own CRM system. I will recommend a CRM system and an email provider if you don't already have one. Both very user friendly-no complicated tech here!
Can this work for general real estate or this is for new home sales only?
This system can be applied virtually to any sales roles-so yes it will absolutely work for general real estate. The examples and templates that I use in this course were specifically designed for new home sales, but can be easily tweaked for general real estate as well.
How many hours will I be scheduling every week to get through this course?
New Construction Marketing Academy is a self-paced program, meaning you can work as many or as few hours as your schedule allows. A good rule of thumb would be an hour per week watching the lessons, and another 2-3 putting them into action. (Pretty much the same amount of time most new home salespeople waste on re-entering those paper registration cards into their CRM system or a spreadsheet-you can kiss that activity good bye for good). But here's the thing… As you'll find, New Construction Marketing Academy is designed for rapid implementation and sustainable momentum. Meaning, as you stack up the wins and start waking up to appointment confirmations in your inbox… You'll WANT to keep going. You'll WANT to speed through the program as quickly as you can. You'll WANT to make it the first thing you step into after your morning routine. Because as you'll soon see, follow up automation isn't a chore when you know exactly what you need to be doing to get amazing results without any wasted effort. It's actually one of the most fun and satisfying things you can do.
P.S. - Every minute you wait is another buyer you miss who will just buy the house down the street or around the corner from your competitor who spent the time nurturing them for the past 18 months!
Enroll now before the bonuses expire! And I'll see you inside the members' area.